Worldwide Compliments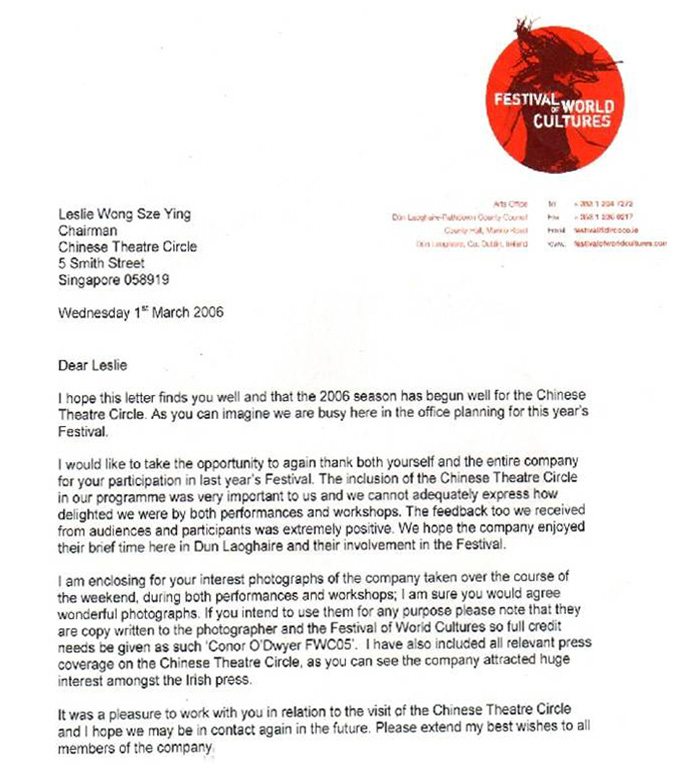 ————————————————————————————————————————————-
CONSULATE OF THE REPUBLIC OF SINGAPORE IN NEW YORK
231 East 51ST STREET, NEW YORK, N.Y. 10022
TEL (212) 223-3331 . FAX (212) 826-5028
29 September 2004
Mr Leslie Wong Sze Ying
Chairman
Chinese Theatre Circle Ltd
5 Smith Street
Singapore 058919
Dear Leslie
WORLD CULTURE OPEN AWARDS 2004
 I wish to express my heartiest congratulations to you and the Chinese Theatre Circle on your selection as one of the finalist by the World Cultural Open Organizing Committee in New York City.
 The members of the Chinese Theatre Circle have every reason to feel a great sense of achievement and pride, as Singapore was one of the 12 finalists selected from a total of 180 nominations. Although the Chinese Theatre Circle did not win the top prize, it has broken new ground in New York. This prestigious nomination has provided the Chinese Theatre Circle with another opportunity to show case Singapore's Chinese Opera in English to a new audience. Its members have done Singapore proud.
 May I take this opportunity to convey my best wishes to the Chinese Theatre Circle and that it may grow and continue to share Singapore's cultural diversity with the international community.
Your sincerely

RICHARD GROSSE
 ————————————————————————————————————————————- 
Fax: 324 1681

And Mail
 9 May 2000
 Mr. Leslie Wong
Chairman
Chinese Theatre Circle Limited
5 Smith Street
Singapore 058919
Dear Mr. Wong,
 SINGAPORE FOOD FESTIVAL 2000
 On behalf of the Singapore Tourism Board, we would like to express our sincere appreciation to Chinese Theatre Circle for your efforts and support in making the Singapore Fodd Festival 2000 a tremendous success.
 We are pleased to inform you that the Food Festival has received positive reviews from the trade and consumers, both locally and overseas. The event also saw extensive media coverage, also both locally and internationally, reinforcing Singapore's status as world-class gourmet paradise. Without a doubt, this is made possible only with your continuous support.
 We would like to commend you and your team in making the Sights and Sounds of Chinese Opera undeniably a successful highlight of the Singapore Food Festival 2000. This is largely attributed to the hard work and dedication of the staff of Chinese Theatre Circle. We wish to place on record our sincere appreciation to you and your entire team.
 Thank you for participating in the Singapore Food Festival 2000 and we look forward to the pleasure of working with you again in the near future.
Yours Sincerely
Josie Lau
F. Chairperson
Singapore Food Festival Organising Committee
cc. Mr Kevin Leong, Director Events Marketing, Singapore Tourism Board
SINGAPORE FOOD FESTIVAL 2000 SECRETAIRAT
Congrex Singapore Pte Ltd . 43 Carpenter Street #04-01 Greatwood Building Singapore 059922
Tel: (65) 438 5311 . Fax: (65) 438 5322 . email: congrex@congrex.com.sg
 ————————————————————————————————————————————-
Budapesti
Fesztiválközpont
Közhasznú Társaság 

---
Leslie Wong Sze Ying
Chairman
Chinese Theatre Circle Ltd.
5 Smith Street
Singapore 058919
Budapest, 14 September 1998
Dear Mr. Wong,
We would like to take this opportunity to thank you very much for the tour of CTC group to Hungary in June/July this year.
On behalf of the Budapest Festival Center, I would like to express our sincere appreciation to you in bringing the world of Chinese opera from Singapore to Hungary. It was a great pleasure for us to co-operate and work closely with you during the months of preparation for this first ever tour of Chinese opera to Hungary. Your presence and participation at our Budapest Street Festival was not only an exotic one, but also an artistic contribution towards our common achievements. The performances of the Chinese Theatre Circle have drawn crowds like no other and it was a tremendous success at the Vörösmarty Square, along the Andrássy Street and in the Vajdahunyad Castle as well. All the news reports on the Festival mention the Chinese Opera as being the first and foremost interesting and most of the articles illustrated were centered on the CTC photos. The visitors referred to you as the most interesting and the most successful programme in the Festival and it was a very rare occastion to meet here such marvellous representatives of the Far Eastern civilization. it was clearly the highlight of the Festival and the most memorable one for those who were there.
We are in receipt of similar appreciation and appraisal concerning your outstanding performances in the Kodály Festival in Kecskemét and the Hotel Ezüstpark, Siófok.
We hope that despite of the often tight schedules, the members of the ensemble had time and opportunity to enjoy themselves and that they all returned home pleased and satisfied – bringing along with them a small part of Hungary. It was an unforgettable delight for us to discover the Chinese opera in such a colourful and exciting way and we are grateful to you for without your leadership, guidance and organization, this tour would not have been possible.
We wish you every success in the coming years.
Yours sincerely,
Budapesti Fesztiválközpont Kht.
1081 Budapest, Rákóczi út 65.
Zimányi Zsófia                                                                                                   Dóra Magyarszeky
Managing Director                                                                                           Program Manager
 ————————————————————————————————————————————-