Media Citation
All the World's an Opera Stage for Chinese Theatre Circle
On 5 September 2004 CTC sent a eight member team to New York, USA to vie for the World Culture Open Awards in the category of creative arts inaug
urated by the World Culture Open (WCO).
WCO is a non profit international organization based in New York and with a office in Seoul, Korea. Established in early 2003 in New York, WCO is devoted to preserving and innovating the world's diverse culture through the creation of forums and events which promote, honour, and celebrate the creative, healing, and humanitarian arts around the world.
The award scheme, billed by WCO as "the Olympics for culture" recognizes and celebrates individuals and arts groups from around the world that engage in preserving traditional artforms with a view to reaching new audiences.
So far, the WCO Awards are probably the most prestigious for the arts in the world.
CTC was selected as one of the twelve finalists by the WCO Organising Committee after a three tier selection from 180 nominations from 120 countries.
In New York, on 10 September CTC presented a traditional Cantonese Opera excerpt "The Patriotic Princess" performed by Wong Kum Yeng and Lo Siu Ling, and an excerpt from CTC's innovative Chinese Opera sung in English "Intrigues In The Qing Imperial Court" written by Leslie Wong and featuring Joanna Wong,
CTC's Artistic Director Cultural Medallion winner as Empress Dowager Ci Xi, See Too Hoi Siang, winner of "The Outstanding Young Person In The Word Award" for cultural achievement as Zhen Fei (Pearl Concubine), Wong Kum Yeng as Emperor Guang Xu, and Dr Wong Kwok Onn (PhD) as Li Lian Ying, at the Diversity Festival in Lincoln Center. After the performance, Joanna Wong also conducted a workshop for the American audience.
Besides being a finalist, CTC was also invited by WCO to Korea where WCO could "publicly honour" CTC's works.
On 14 September CTC present the same programme at Ilsan Lake Park in Gyeonggi, South Korea. CTC has done Singapore proud. CTC is the only arts company from East Asia and South East Asia to have gained a place in the finals of the WCO Awards.
YOUNG ICON FOR CHINESE OPERA
Miss See Too Hoi Siang, leading actress of Chinese Theatre Circle (CTC), has been voted one the world's Top 10 Outstanding Young Persons in 2001 for her cultural achievement. She received this distinguished international award at a presentation ceremony held at Palau de la Musica Catalana, one of the world's most famous music concert halls, in Barcelona, Spain on 7 November 2001. See Too Hoi Siang is one of the top disciple of Mrs Joanna Wong, CTC's Artistic Director.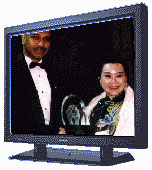 Her win marked the first for a Chinese Opera artist. Her win also puts her on a list that includes Hong Kong's "Heavenly King" Jacky Cheung, Andy Lau, and actor Jackie Chan all of whom were previous recipients of this award. The Outstanding Young Person Award (TOYP) is given out annually by the Junior Chamber International, a United States based world body, to 10 outstanding young people between the ages of 18 and 40 judged on their accomplishments in wide-ranging fields, from politics and science to academia, social work and cultures.
See Too Hoi Siang is one of 77 people from 25 countries who were nominated in 2001 for the award. She was nominated by the Orchid Jayceettes of Singapore, the women's chapter of the Junior Chamber in Singapore, a community organisation after winning "The Outstanding Young Person(s) in Singapore Award" in 2000 for cultural achievement. Her winning this international award demonstrates that CTC has groomed an artiste of world-class status.
Creating a Milestone for Cantonese Opera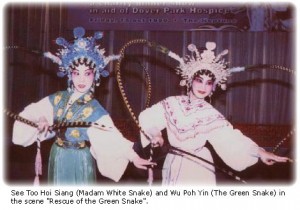 On 15 October 1999 Chinese Theatre Circle (CTC) presented a charity Cantonese Opera "MADAM WHITE SNAKE" at the Neptune Theatre Restaurant in aid of the Dover park Hospice with dialogue and singing in English, the first if its kind in Singapore.