Citation
The Chinese Theatre Circle (CTC) was established in 1981. To date, it has given no less than 1,000 performance of Cantonese Opera to appreciative audiences at home and in fifteen countries across five continents. It has also participated in the prestigious Edinburgh Festival (1998), the international Children's Festival in Wolf Trap, Virginia, USA (1989), and the international Theatre Festival in Tokyo (1990).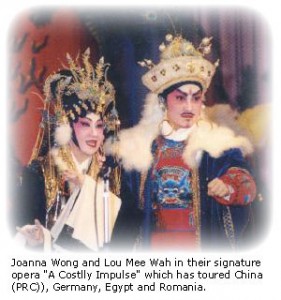 In December 1993, in recognition of CTC's artistic excellence, the Chinese Theatre Association, the umbrella body for all Chinese opera and drama groups in China, invited CTC to present CTC's signature operas, "The Poet Emperor Li Yu" and "A Costly Impulse", in Beijing. No other foreign Chinese Opera troupe had ever been given this honour. At the same time, CTC's two leading artistes, Mrs Joanna Wong and Miss Lou Mee Wah, were presented Commendation Certificates by the Ministry of Culture, China, for their artistic excellence and effort to promote Chinese Opera. The live recording of "A Costly Impulse" was subsequently telecast in 1995 and 1996 to a Chinese viewership of about 700 million in each instance. CTC's two performances in Bucharest in 1996 were so well received that the Romanian authorities requested it to perform annually in Romania. Later that year, it played to packed houses on two nights in Guangzhou.
As cultural ambassadors, CTC has fostered closer cultural ties between Singapore and the countries it has visited, and has also initiated a cultural exchange programme with Romania.
For having placed Singapore firmly on the cultural map of the world through its artistic excellence in Cantonese Opera, and for its role in creating an environment for cultural exchange and mutual enrichment, the Chinese Theatre Circle is conferred the Excellence for Singapore Award in 1997.