SEE TOO HOI SIANG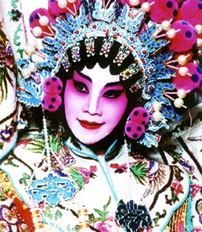 SEE TOO HOI SIANG
CITATION
WINNER OF "THE OUTSTANDING YOUNG PERSON IN THE WORLD AWARD" FOR CULTURAL ACHIEVEMENT IN 2001
Miss See Too Hoi Siang
Singapore
Category: Cultural Achievement
See Too Hoi Siang began her training in the art of Chinese opera at the age of 14. See Too Hoi Siang began her training in the art of Chinese opera at the age of 14. A diligent worker, she has now mastered all aspects of Cantonese opera after twenty-three years of continuous and assiduous training. She is perhaps the only homegrown artist capable of performing both civilian and military-type roles with equal competence. In 1998, she gave up an executive career to become a lead opera actress, taking up the challenge of upholding the beauty of this seemingly dying art. she was willing to turn professional despite the meager income it promised.
To date, Siang has delivered almost 2000 performances both at home and overseas. Her passion for her art has spurred her into giving Chinese Opera demonstrations to over 500,000 students throughout Singapore. This is quite a challenge since the past two generations of Singaporeans are more in tune with Western performing arts. Only the older generations understand and appreciate this centuries-old art form called Chinese Opera.
In order to ensure that these and future generations of Singaporeans do not lose this part of their history, she continues to tirelessly visit high schools and junior colleges to demonstrate it's beauty. In doing this, she imparts the traditional Chinese values such as filial piety, loyalty and the avoidance of evil of all forms. Siang shares stories of ancient legends that have kept audiences mesmerized for many centuries. Her passion today is to instill into our youth the idea that the path to personal success can be wrought from the passion to succeed through all odds.
Siang also helps promote Chinese Opera at the Opera Teahouse to visitors of Singapore. She has taken Chinese Opera to 14 countries in all continents, performing at all the major art festivals around the globe. She has not only uplifted the status of Chinese Opera, but has firmly placed Singapore on the cultural map of the world by building strong cultural relations between these countries and Singapore. Her performances have won her many standing ovations and impeccable reviews.
The first Chinese Opera artist in Singapore to perform "Madam White Snake" in English, Siang raised US$300,000 for the Dover Park Hospice.
In all respects, Siang's passion has brought awe to numerous communities both in Singapore and abroad. Her performances have also given hope to the many charities she serves. Siang's tireless passion for her work has made her an icon in Chinese Opera.
"Madam White Snake" is a very beautiful Chinese legend. The story originated in the Tang Dynasty about a thousand years ago. It revolves on the romance between a snake fairy and a scholar.
Bai Shu Zhen (Madam White Snake), a snake fairy fell in love with an Immortal named Gui Zhi, thus infringing the heavenly rules. As a punishment, Bai Shu Zhen was imprisoned in the Lily Pond while Gui Zhi was stripped of his supernatural powers and banished to earth.
Bai Shu Zhen managed to free herself and on her way to earth saved Xiao Qing, the green snake fairy. Out of gratitude Xiao Qing served her as her maid.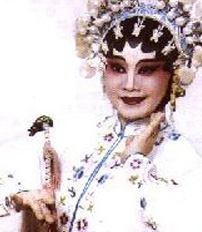 Joanna See Too Hoi Siong
(Winner of Outstanding Young Person Award 2000)
as Madam White Snake
At the West Lake they met Gui Zhi who by then was a poor scholar assuming the name of Xu Xian and running a medicine shop. Xiao Qing created a boatman and both of them acted as the matchmaker for Bai Shu Zhen and Xu Xian. Atter marriage, Bai Shu Zhen commenced her charity work by healing the sick and giving free medicine to the poor. Her act of charity angered Fa Hai, the Chief Abbot of Jin Shan Monastery as less and less people patronized his Jin Shan Monastery resulting in his coffers running dry.
Fa Hai concocted a devious plan. He spiked the wine Xu Xian offered to Bai Shu Zhen on the day of the Dragon Boat Festival. Bai Shu Zhen was transformed back into a snake thus frightened Xu Xian to death.
In a desperate move she went up to the Kun Lun Mountains to steal the magic herb. She was almost killed by the heavenly guards. Fortunately the God of Longevity appeared in time and gave her the magic herb to revive Xu Xian.
Seeing that his plan had failed, Fa Hai abducted Xu Xian and challenged Bai Shu Zhen to reveal her true identity to Xu Xian. Should Xu Xian remain faithful after knowing her real background, then Fa Hai would leave the couple alone. Bai Shu Zhen took up the challenge and won. Fa Hat however fell back on his word and took Xu Xian by force to the Jin Shan Monastery. In her fury and in haste to rescue Xu Xian, Bai Shu Zhen led an army of sea creatures and attacked the Jin Shan Monastery and saved Xu Xian from the evil hands of Fa Hai. The opera ends on this note.
This opera comprising eight scenes, has two unique features. Firstly it is presented in Mandarin, secondly the scene on "Stealing The Magic Herb' is a mime. This opera demonstrates all the components of Chinese Opera, viz Singing, Acting, Speech, Dialogue, Dance, and Martial Art.