JOANNA WONG JP BBM
Mrs Joanna Wong Quee Heng
Singapore
Category: Cultural Achievement
Joanna Wong Quee Heng is a unique Woman in our modern society. Graduated with a Bachelor of Science (Honours) degree from the University of Singapore (now known as National University of Singapore) she was formerly the Registrar of the National University of Singapore. Whilst studying in the University, she won the All-round Gold Medal thus becoming the first female student to win this prestigious Award. Despite her busy office schedule she very active in community work. In 1974 she was conferred the Public Service Star (BBM) by the President of the Republic of Singapore for her contribution towards community service. In 1981 she won the prestigious Cultural Medallion, making her the first Chinese Opera artist to receive the Award. This was followed by the Government's conferment of several Long Service Awards.
An expert exponent of Cantonese Opera, she is the Artistic Director cum Leading Actress of Chinese Theatre Circle. Effectively bi-lingual, she has imparted her skills and experience to many Cantonese Opera enthusiats, and has groomed a pool of promising artists, the most notable one being Lou Mee Wah who also won the Cultural Medallion in August 1997. She and Lou Mee Wah are "Singapore's Chinese Opera's most well known duo". Joanna is undoubtedly the stalwart who has not only revived Cantonese Opera, but has also lifted this art form to greater and greater heights.
In October 1998 Joanna Wong was appointed Justice of the Peace by the President of The Republic of Singapore.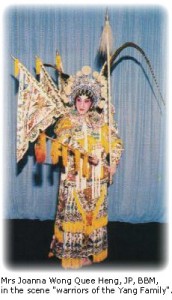 Joanna Wong is also the Chairperson of the People's Association Women's Executive Committee Coordinating Council, Chairperson of the Kreta Ayer Community Club Women's Executive Committee and President of Part Woh Wui Koon (Cantonese Opera Artistes Guild).