News & Events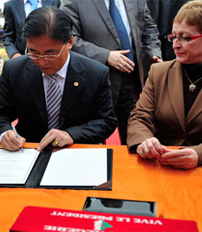 Singapore's Chinese Opera Company Breaks Into South American Market in World Tour
12 August 2013
The Chinese Theatre Circle (CTC), Singapore's leading professional Chinese opera company, will participate in the 5th International Theatre Festival from 3 – 11 August held in Belo Horizonte to celebrate Brazil's 500th anniversary. CTC will be the only Chinese opera company featured in the Festival. This will also be the first time Singapore's chinese opera breaks into the South American market, and it is made possible by the National Arts Council (NAC).
The 24-member crew will perform a Cantonese opera extravaganza, comprising four famous excerpts "The Patriotic Princess", "Joy at the Imperial Garden", "Picking the Jade Bracelet", and "Meeting at the West Lake" from Madam White Snake on 3-4 Aug. They will then proceed to perform a full length Cantonese opera A Costly Impulse on 6-7 Aug.
One of the pieces "Meeting at the West Lake" will be performed in English. This will be the first time CTC performs a Chinese opera in English overseas. In conjunction with the Festival, CTC will conduct a pedagogical programme on 7 Aug, based on the theme "The Playwrighting Process". They will talk and demonstrate the skills involved in translating Chinese opera works into English. A Chinese opera excerpt in English will be performed during the session.
The pedagogical programme aims to give performing arts professionals in Brazil the opportunity to be exposed to overseas works and to establish contacts with overseas theatre practitioners.
After the Brazil trip, CTC will embark on another world trip to Germany, France, Belgium, USA and China from 20 August – 23 September. Highlights of the world tour include signing of a Memorandum of Understanding with the Association L'Opera Cantonnais En Europe (the umbrella organisation for Cantonese opera groups in Europe). This will be conducted at the Singapore Embassy in Paris on 28 Aug in the presence of HE Mr. T Jasudasen, Singapore's Ambassador to France. Other tour highlights include a performance in the Europe International Cantonese Opera Festival in Antwerp, Belgium and the inaugural performance of "Madam White Snake" in English in China (PRC).
The two world tours are supported and funded by the NAC International Touring Grant. Established in 1981, CTC is active in promoting the art of Chinese opera, dance and music locally and overseas. To date, it has staged more than 2000 performances in Singapore and 18 countries and territories including Australia, Belgium, Canada, China, Egypt, England, France, Germany, Hong Kong, Hungary, Italy, Japan, Malaysia, New Zealand, Romania, Scotland, Turkey and the USA. Its signature opera "A Costly Impulse" was recorded live in Beijing in 1993 and subsequently broadcast nationwide to more than 700 million people. The Company was last awarded the Excellence for Singapore Award in 1997 for its efforts in promoting Chinese opera in Asia and in the world.
More information on Chinese Theatre Circle and the touring circuit is attached as follows:
Annex1: Schedule of CTC's world Tour
Annex2: Participating Tour Members
Annex3: Synopsis of works to be performed
Annex4: Synopsis of CTC
For media enquiries, please contact:
Mr Leslie Wong, Chairman,
Chinese Theatre Circle,
DID:3234862,
HP: 96302886,
E-mail: Leslie@ctcopera.com.sg